History
History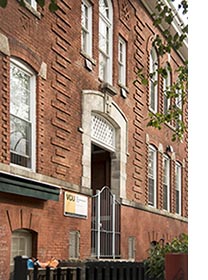 The VCU Child Development Center (CDC) was established over 100 years ago as the Belle Bryan Nursery to serve families in need. VCU assumed responsibility for the operation of the center in 1971 after recognizing that many of its patrons were employees of the university and realizing the need to establish a childcare center in the Richmond area. The Center operates under the oversight of the VCU School of Education.
The present location formerly served as the Cathedral of the Sacred Heart Elementary School. The exterior architectural integrity of this old building was preserved, including the granite signs over the doors of the East and West entrances delineating separate entrances for boys and girls. Inside the building, a state-of-the-art HVAC and security system, and modern childcare classrooms are complemented by the original arched windows.
The CDC is licensed by the Virginia Department of Social Services and has earned accreditation from the National Association for the Education of Young Children (NAEYC) – the nation's leading organization of early childhood professionals. NAEYC accreditation has become a widely recognized sign of high-quality early childhood education.